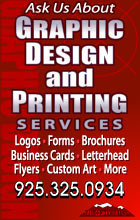 ---
The Best Transmission Service Shop

Open Mon-Fri 7:30-5:30; Sat 8-12. Great customer service and reasonable prices. Call Alex (925) 754-9967 COUPON Visit A1Transmission.Com
---
So Good They Named A Street After Them "Bliss Ave!"

Open Mon-Fri 7:30-5:30; Sat 8-3. "Great service since 1981". (925) 432-3422 COUPON Visit
TredShed.Com
---
---
The Best Place To
"Get Lucky"

Play $3-$6 and No-Limit Hold'em 7 Days A Week. 19 HDTV's... watch the game you want! "Weekend Happy Hour too" during baseball season. Call (925) 757-6545 Poker CouponVisit 19thHoleAntioch.Com
---
The Fastest Way To Get Found Online In Antioch, Brentwood, Oakley & Pittsburg

Community Events Calendar, Coupons, E-Mail Marketing, Web Sites, Sell Your Products Online Today. Since 2001! Call (925) 325-0934 Coupon Visit
EastCountyLive.Com
---
What's Hot This Week In Antioch, Brentwood, Oakley & Pittsburg?

Weekly Concert, Festival, Comedy, Art, and Car Show Information for Antioch, Brentwood, Oakley & Pittsburg, CA. Call (925) 325-0934. Visit
SPOTLIGHT
MACS OLD HOUSE SUPER BOWL CRAB FEED
See all the "PHOTOS".
OAKLEY CHIROPRACTOR CAN EVEN HELP YOUR PETS!
Most of Dr. Painter's work is with auto and work related accident victims. But he is also certified to work on pets too! See the photos HERE!
LOOKING FOR A PET?
Visit Antioch Animal Services and see the pets they have available for adoption "online!"
NEW! SAVE BIG BUCKS ON TRANSMISSION REPAIRS
Now's the time to get that TRANSMISSION SERVICED SAVE HERE!. Click "coupon" page.
Quick Links & Special Offers In Antioch, Brentwood, Oakley and Pittsburg, CA
If you would like your business linked here call Frank MacCallister @ (925) 325-0934 or send "email".

19TH HOLE CASINO & LOUNGE - Antioch, CA
Watch all the games on 17 FLAT SCREEN HDTV's! Do you like TEXAS HOLD'EM? Play $3-$6 & No Limit Hold'em 7 days a week. Win $2,000 playing in our monthly tournaments! 2746 West Tregallas Rd. (925) 757-6545
to top
A-1 Transmission - Antioch, CA
Offers the best in transmission services at very affordable prices for your car, truck and RV. Visit them on the web, stop by the shop or call Alex for an appointment. 2504 Devpar Court (925) 754-9967 aborbon55@sbcglobal.net
to top
ACE HARDWARE
The HELPFUL place is their slogan and the way they do business. If you need some helpful advice with a home improvement project ACE IS THE PLACE. Antioch, 501 Sunset Dr.; Brentwood, 8900 Brentwood Blvd.; Oakley, 310 Fourth St.; Pittsburg, 125 E. Leland Rd.
Antioch, Brentwood, Oakley, Pittsburg (925) 634-3201 manager@acebrentwood.com
to top
Affordable Tire Center - Antioch, CA
New & Used Tires, Air Conditioning Service, Oil Changes & Smog Checks is what we specialize in. Superior customer service. We do what we say we are going to do. Guaranteed work. Se Habla Espanol #11 Wilbur Ave. (925) 779-1006 oneaffordabletirecenter@yahoo.com
to top
American Plumbing - Antioch, CA
Clean, Courteous, and Dependable. Our plumbing professionals are the best in the business and are quick to respond to any emergency or request for service. 24 Hour Emergency Service Available. Locally owned and operated since 1984. Lic. #418845

414 'G" St. (925) 754-4990 amplumb1@yahoo.com
to top
Antioch Paintball Park - Antioch, CA
Individuals and teams compete to eliminate opponents by hitting them with paintball pellets shot from a special gun called a paintball marker. Three outdoor fields to choose from. Great birthday party idea. BBQ and picnic area as well as grandstands to watch all the action from. Snack bar & arcade.1201 West 10th St. (County Fairgrounds enter 18th & "L" St.) (925) 757-2468 Jeffery Warrenburg
to top
Bear Technology - Brentwood, CA, CA
Looking for a cool new hi-def theater system? Maybe, an automated lighting, heating, air conditioning, pool, spa, or irrigation system? A better phone system for your home or office? Call the folks that have been installing "no-hassle" technology systems here in East County for over 20 years.410 Beatrice Ct Suite C (925) 634-0787 gludwig@beartechnology.net
to top
Black Diamond Travel - Antioch, CA
Black Diamond Travel is the leading full-service travel agency in Eastern Contra Costa County, with experienced, professional staff dedicated to providing the highest levels of service for all your travel needs -- both leisure and business. 3240 Lone Tree Way, Suite 203 (925) 754-5340 traveler@blackdiamondtravel.com
to top
Boys & Girls Club of East County - Pittsburg, CA
Young people need a safe environment where they can play, learn, and grow. They need to know that someone is always there to care and listen.1001 Stoneman Ave. (925) 439-6905 eodunikan@ecbgcpittsburg.com
to top
Brentwood Dance Lessons - Brentwood, CA
Learn to dance well and get some great exercise. Lessons for individuals, couples and groups in Antioch, Brentwood, Byron, Discovery Bay, Oakley and Pittsburg, CA. Learn how to do a Salsa, Waltz a West Coast Swing and more. Monthly social dance call Cozette for schedule817 First St. (925) 240-9847 cozette@mac.com
to top
Buffalo Wild Wings - Brentwood, CA
Either the greatest invention of all time or... wait, there isn't a second option. Five seasonings, 16 mouthwatering sauces, mix and match and choose your favorite. How wild are you today?6051 Lone Tree Way (925) 240-7481 389@buffalowildwings.com
to top
Cal Tech Enviro - Antioch, CA
Trouble with ants and roaches at your home, office or commercial property? Save money with the best local pest control company. P.O. Box 4635 (925) 766-7103 Caltechpest@comcast.net
to top
Cap's Restaurant - Brentwood, CA
Cap's is a landmark in the east county. The finest ambiance, great cuisine, superior service and quality cocktails is what you can expect. This Brentwood restaurant features one of the east county's most distinctive banquet rooms and can comfortably seat 120 guests. 144 Oak Street (925) 634-1025 elaine karadais
to top
CAPTAIN MORGANS DELTA ADVENTURES - Discovery Bay, CA
The Rosemarie is a 55 Funcountry Houseboat that is strong, elegant and luxurious. Ideal for dinner/wine cruises, and private parties. The boat is available for private overnight charters and is based at Discovery Bay Marina.1700 Riverlake Road (925) 383-5346 Frank Morgan
to top
Carol Joyce Cosmetics - Oakley, CA
For skin that is Forever Young. Visit our web site for our FREE LIPSTICK OFFER.1586 Wildcat Way (925) 679-8777 elaine@caroljoycecosmetics.com
to top
CARPACCIO RISTORANTE - Oakley, CA
Authentic Italian cuisine including Veal, Seafood, Pasta, Steaks, Pizza, and Salads. 3070 Main St., (925) 625-9809
to top
Celia's Mexican Restaurant - Antioch, CA
Tasty and unique Mexican recipes. Music trio on Thursday, Mariachi's on Saturday. Full cocktail bar and lounge with potent margaritas. Beautiful patio/banquet room dining available. Open 7 days stop by and see you'll be glad you did.523 W. 10th Street (925) 754-1355
to top
CHARLEY'S GRILLED SUBS - Brentwood, CA
The word is here G.I.F.O.Y. which stands for "Grilled-In-Front-Of-You so you know it's fresh. (4) Cheesesteaks, (4) Chicken, (6) Deli sandwiches plus (5) Gourmet Fries recipes (3) Salads plus (3) Gourmet Lemonades all prepared G.I.F.O.Y style. 6660 Lone Tree Way, Suite 1 (925) 240-1552
to top
CHUCKS CABINET SHOP - Oakley, CA
A unique adventure in the woodworking. Original in design and old school in workmanship. Please enjoy my gallery of craftsmanship, then call me for an interview on your next design. Kitchens, Wall Units, Stair Railings, Custom Trim, Custom Mantles and Refacing. Since 1981, CA Lic. #429336(925) 625-5516 chuckhealer@sbcglobal.net
to top
CYPRESS LAKES REALTY Dori Anderson - Eastcounty - Bethel Island, CA
Looking to buy or sell real estate here in Antioch, Bethel Island, Brentwood, Knightsen, Oakley or Pittsburg? Take a look at the best realty website here in Eastcounty. This site has everything, featured listings, dream home search, determine your homes worth feature, interest calculator, and more! 6325 Bethel Island Rd (925) 684-9791 Dori Anderson
to top
Delta Pure Water - Brentwood, CA
When you can't drink tap water one more day stop in the eastcounty's favorite water store. You can buy water by the gallon, in your container or theirs, crocks, hot and cold water dispensing units, water softners & reverse osmosis equipment. Questions? Talk to the water experts! 41 A Sand Creek Road (behind McDonalds) (925) 634-6658
to top
DELTA VACUUM & SEWING CENTER - Antioch, CA
East County's favorite vacuum and sewing machine center. Factory authorized sales, service and warranty repair for all major brands of vacuums. We also carry an extensive line of Baby Lock products including Sewing machines, Embroidery machines, Overlock and Cover Stitch machines. 1868 "A" St. (18th & A @ Grocery Outlet Shopping Center) (925) 757-4981 deltavac@ecis.com
to top
Delta Valley Athletic Club - Brentwood, CA
We have a passionate, knowledgeable team of fitness professionals, state-of-the-art exercise equipment, results-oriented programs and a beautiful, clean and spacious facility.

120 Guthrie Lane 925-240-2990 miked@deltavac.com
to top
Dr Don Huntington Marriage Enhancement - Brentwood, Ca
Dr. Don Huntington has been inspiring others for nearly 50 years. His recent book HOW TO PUT YOUR WHOLE SELF-IN is helping individuals. Now he is on a mission to help marriages. (925) 864-3263 don.huntington@gmail.com
to top
Dragon City - Brentwood, CA
Chinese cuisine both Mandarin & Szechuan plus Sushi! 28 lunch specials under $6.50, all served with Appetizer, Soup, Salad, Soda and choice of Fried/Steamed Rice or Chow Mein. Limited delivery available.71 "G" Sand Creek Rd. (Behind McDonald's) (925) 513-2722
to top
Driversity - Antioch, CA
DRIVERSITY offers both online and live driver education classes. Schools in Antioch, Concord, Yuba City. Lessons are offered seven days a week. We use unmarked light silver Honda Civics for training. 516 W. 2nd St. (925) 778-7172 mrs.robinson@driversity.com
to top
Dynamic-Faces - Oakley, Ca
Dynamic Faces will bring top quality face painting and caricatures to your next party or event. (925) 813-5308 dynamicfaces4u@gmail.com
to top
E. J. Phair Liberty Alehouse - Pittsburg, CA
Restaurant & brewing company known for it's Pale Ale, IPA, American Wheat, Marzen, Pilsner and seasonal brews. Step and a half above the usual pub fare including Saturday & Sunday brunch. Movie nights, trivia nights, music nights keep the energy level up in this friendly casual restaurant.200 East 3rd St. (925) 252-9895 becky@ejphair.com
to top
East County Insurance - Antioch, CA
One of the most diverse agencies around including commercial and personal lines for auto, homeowners, earthquake and businessowners. Click on the link above for a free quote. Questions, call Emily. 2738 W. Tregallas (925) 757-4208 emily@eastcountyins.com
to top
East County Veterans Thrift Store - Antioch, CA
Shop Monday through Saturday for gently used clothing, books, kitchenware, art and gifts. Supports veterans programs and care packages to our troops. Conveniently located in downtown Antioch across from city hall. 708 Second St. (925) 206-4113 ecmilitary@yahoo.com
to top
EastCountyLive.com - SPOTLIGHT - Antioch, CA
EVENTS, COUPONS and CONTESTS for consumers here in Antioch, Brentwood, Oakley and Pittsburg, CA. The company develops websites, databases, content management systems, flash graphics and movies for clients. They also produce and email the SPOTLIGHT newsletter.505 Kean Ave. 925-325-0934 frank@eastcountylive.com
to top
Elcenko Chiropractic Center - Antioch, CA
A trusted Chiropractic family name for 35 years. Automobile & sports injury specialists. Massage therapist on staff. Rates as low as $30 per visit. Evening and Saturday appointments available. 2800 Lone Tree Way (925) 754-6868 noble elcenko
to top
Elderly Wish Foundation - Antioch, CA
It is the mission of An Elderly Wish Foundation
to enrich the lives of the terminally ill elderly
by making a special wish come true.301 W. 10th St #9 (925) 978-1883 Mary Chapman
to top
Harvest Park Bowl - Brentwood, CA
The most family fun you can have in Brentwood. Open seven days a week at the corner of Balfour Ave & Hwy 4. Visit the web site for league, bowling rates, and private parties. 5000 Balfour Road (925) 516-1221 sherry@harvestparkbowl.com
to top
HARVEST4YOU.COM - Brentwood, CA
HARVEST TIME is dedicated to improving Agri-tourism in the Brentwood Region. Each year 40 growers sell fresh fruits, vegetables and nuts. We also have wine, pies, juices, gift baskets, gourmet treats, Alpaca clothing and nursery stock. Visit our website and then come out to our farms for a visit.info@harvest4you.com
to top
INLAND MARINE - Antioch, CA
Sales & service center for GEKKO, LEGEND & KLAMATH boats. We sell and repair SUZUKI, MERCURY, VOLVO PENTA, YAMAHA, EVENRUDE, JOHNSON, OMC & TOMATSO engines. 1600 West 10th St. (925) 757-1714 frank@inland-marine.com
to top
KINDER's MEATS, DELI & BBQ - Brentwood, CA
After 51 years KINDERS finally brought their award winning meats, sauces and deli to east county! In addition to hot and cold sandwiches they also serve salads, burgers, chicken & hot link sandwiches. See KINDERs for all your catering needs as well. 5411 Lone Tree Way #110 925-308-7997 a.lastrico@kindersmeats.com
to top
La Pinata Mexican Restaurant - Pittsburg, CA
This new Mexican Restaurant in Pittsburg is unique in that they serve breakfast everyday and features a tequila bar and covered patio. 95 Bliss Avenue (925) 252-0222 gerardo@lapinatapittsburg.com
to top
Lamothe Cleaners - Antioch, CA
Family owned Laundry & Dry Cleaning business since 1907. Three locations to serve you. Now offering FREE PICKUP & DELIVERY. Call (925) 757-5940 for details. 1860 "A" St., (925) 757-5940 TJLamo@aol.com
to top
Life's Path Wellness Center - Brentwood, CA
Are you tired of being afraid and depressed? Do you suffer from anxiety? Get rid of fear, shame, worry and guilt. What people are saying about Linda: "I am happier now, I have a true sense of peace for the first time in years. I can trust the process, stop worrying and manage my stress. 425 Oak Street, Suite D (925) 325-3435 LifesPathWlns@aol.com
to top
Little J's Cafe - Pittsburg, CA
"The Best Tri-Tip in Town" is the slogan but it's just the beginning of what they have to offer. Burgers, Salads, Chicken, Hot Dogs and a nice selection of tasty dinners. A kids menu is available. Eat in or out and don't forget they do catering too. 3350 Loveridge Rd. (925) 432-7648
to top
Lone Tree Dental - Antioch, CA
Dr. Kannan Komandur and Dr. Archana Naidu strive to deliver excellent, comfortable and supportive dental care for you and your family. Both doctors enjoy all aspects of dentistry including cosmetic and the treatment of children. Conveniently located in south central Antioch near Delta Memorial. 3700 Sunset Lane, Suite 5 (925) 778-2400 Email: Antioch Lone Tree Dental
to top
LONE TREE GOLF & EVENT CENTER - Antioch, CA
Enjoy our 18-hole golf course, driving range, and Lone Tree Bar and Grill with one of the best dining room views in Contra Costa County. Champagne Sunday Brunch accompanied with live music from 10-2pm. Planning a special event? We cater to all occasions. 4800 Golf Course Road 925-706-4220 Ron Parish
to top
Mac's Old House Restaurant - Antioch, CA
This popular restaurant has reached landmark status. Featuring, $2.00 drinks and a complete $10.95 Prime Rib dinner 7 days a week. Relax, plan to wait a bit, and have some fun. Visit them on the web and WIN "Dinners-for-Two". 3100 East 18th Street (925) 757-9908 garynoe@sbcglobal.net
to top
Mainly Margaritas - Brentwood, CA
Margarita Machine Rentals are great for Birthday or Anniversary Parties, Wedding Receptions, Crab Feeds, BBQ, Showers, Office Parties, or just a gathering of Family & Friends. We have many fun flavors that will hit-the-spot of all your guests, adults and children alike!! (925) 759-0667 ernie@mainlymargaritas.com
to top
MARINER COVE - Bethel Island, CA
STAY WHERE YOU PLAY AquaLodges & Floating Cabins for rent. Fully equipped with TV, DVD player, Full Size Bed, Bunk Beds, Shower, Toilet, Stove Top, Microwave, Refrigerator, BBQ and many Kitchen Amenities. Sleep up to 8 people located on fast water for skiing, wakeboarding, tie up next to your cabin. 1200 Taylor Road (925) 684-2166 Tomi Hickman
to top
Pantell's Music Box - Antioch, CA
Stereo, Video, Alarm, and Navigation systems. We sell and install the best equipment on the market today. See us for all your Car, Truck, RV, Boat and Motorcycles systems. In Antioch since 1950. 407 "G" St., (925) 757-6618 pantellsmusicbox@sbcglobal.net
to top
PARADISE SKATE ROLLER RINK - Antioch, CA
Skating is fun for the whole family. We offer both traditional quad skating and inline skates. Snack bar, game center and seating for large groups and birthday parties.1201 West 10th St. (County Fairgrounds enter @ "O" St.) (925) 779-0200 Jeffery Warrenburg
to top
Perez Nursery & Landscaping - Brentwood, CA
Perez Nursery & Landscaping is a retail/wholesale grower of plants, shrubs and trees. The are also licensed landscape contractors. The nursery is open 7 days a week. Located on 10 acres of fertile ground in Brentwood this is one of the largest nursery's in northern CA2601 Walnut Blvd. (925) 516-1052 irmazperez@aol.com
to top
POMPEI NURSERY - Oakley, CA
Flowers, Shrubs, Vegetables, Trees & Garden Decor. Experience a nursery where you'll find a friendly and knowledgeable staff. Pompei Nursery also offers landscape design services and seasonal gardening classes. 4701 Main St. (925) 625-7330 pompeinursery@sbcglobal.net
to top
QUIZNOS - Antioch, CA
Quiznos delivers uncompromising quality for a tasty, fresher alternative to traditional fast food restaurants. Using premium quality ingredients, Quiznos offers better-tasting food through creative, chef-inspired recipes to give you an experience that's truly a "cut above" all the others.5019-A Lone Tree Way (925) 778-2074 gbomagat@sbcglobal.net
to top
REALTY WORLD DELTA ISLAND - Bethel Island, CA
Specializing in waterfront and recreational properties in Bethel Island, also residential Oakley properties. 3601 Gateway Road, Bethel Island (925) 281-4656 jerry@realtyworlddi.com
to top
Red Caboose Restaurant - Antioch, CA
Dine-In our authentic red caboose dining room. We feature a complete Prime Rib Dinner including Soup, Salad, Potatoes or Pasta, Fresh Vegetables and Warm Bread & Butter for just $9.95 SEVEN DAYS a week. Other favorites include our HUGE RED CABOOSE BURGER and tender & juicy TRI-TIP SANDWICH. 210 Fulton Shipyard Rd (925) 777-1921 Sheila White
to top
RIVERVIEW LODGE RESTAURANT - Antioch, CA
"Justly Famous Since 1948" for the view of the San Joaquin & Sacramento Rivers is this appealing mecca of really good food. Variety of fish, thermidors, newburgs, oysters and prawns are served up daily. Homemade Cioppino every Friday, tender & juicy Prime Rib served Saturday through Thursday. "I" Street Wharf (925) 757-2272
to top
Schooner's Grille & Brewery - Antioch, CA
Family-owned restaurant and brewery open 7 days a week for lunch and dinner. We also offer breakfast every weekend. Steaks, Fish, Pasta as well as wood-fired pizzas and a large kids menu make this a family favorite. 4250 Lone Tree Way (925) 776-1800
to top
SCHWINN CITY - Antioch, CA
Visit us today - we carry a full line of bikes, parts, gear, accessories as well as providing 5 star service. Not sure what you need or the right sized bike? We can help you select exactly the right bike (not the most expensive...) for you so your rides are frequent, fun and easy. We fit you right. 814 "A" St (925) 757-0664
to top
Seeno Homes CA
looking for a new home in Antioch, Brentwood, Oakley or Pittsburg? Visit the web site or call toll free 888-41HOMES for more information.
to top
SERVPRO OF CONCORD - Concord, CA
Servpro of Concord has 12 years experience in FIRE & WATER DAMAGE CLEANUP and RESTORATION, Carpet & Upholstery cleaning for both residential & commercial structures. Have a question? Call the pro's @ Servpro of Concord, Keith and Tina Rogers @ (925) 689-4850 tina@servpro-concord.com
to top
SHADOW LAKES GOLF COURSE - Brentwood, CA
Is a fun place to go in Brentwood. A challenging golf course, full service bar & restaurant. The special events center features a weekly Karaoke event. A nice mix of monthly and seasonal events makes Shadow Lakes a popular destination for non-golfers. 401 W. Country Club Dr. (925) 726-6370 roy@deerridgecc.com
to top
Site For Sore Eyes - Pittsburg, CA
Need an eye exam, some cool new glasses or a repair on your favorite pair? Visit us on the web and make an appointment or stop by the store near the Brenden Theater and ask for Lloyd. 4121 Century Blvd (925) 706-4400 sfsepitts@aol.com
to top
SOUTH NORTH DRAGON RESTAURANT - Antioch, CA
Enjoy all your favorite Chinese dishes 7 days per week. Lunch specials daily from $4.95. Dim Sum every weekend. Party trays available. 1611 A Street (in Antioch Square Shopping Center) (925) 757-6283
to top
Straw Hat Pizza
Pizza, Sandwiches, Salad Bar, Sodas and Beer. Open 7 days a week3001 Delta Fair Blvd. Antioch
6680 Lone Tree Way Brentwood Ant 754-1520 Brt 634-3664
to top
SUGAR BARGE RV RESORT & MARINA - Bethel Island, CA 94511, CA
Sugar Barge Resort & Marina, located in the heart of the Sacramento/ San Joaquin River Delta, on Bethel Island and is one of the finest facilities in the area. RV park, Marina, Wedding Event Center, Restaurant and Boat Rentals!
1440 Sugar Barge Road (925) 684-9075 rvsugarbarge@comcast.net
to top
Sweeney's Grill & Bar - Brentwood, CA
Casual and yet elegant this Downtown Brentwood Restaurant features great great steaks. House favorites include, calamari in a white wine sauce and a sensational clam & mussell appetizers. 301 Oak Street (925) 634-5192
to top
Tamayo Family Vineyards - Brentwood, CA
On the morning side of Mount Diablo in Contra Costa County lies a land of rich soil and abundant fresh water. It is a land of warm sunny days and cool delta nights. It is a region quietly revered since the Portuguese and Italians first planted their vines over 100 years ago. We call it home. 2155 Elkins Way, Suite C, Brentwood, CA 94513 (925) 513-8463 sales@tamayowines.com
to top
The Cheese Steak Shop - Pittsburg, CA
Authentic Philly cheese steak sandwiches, Italian Hoagies, assorted salads, and the best curly fries on the west coast. Many ingredients are special ordered from Philly like our Amoroso sandwich rolls and Tastykakes. 4581 Century Blvd. (next to Ross) (925) 706-0625 steakbaron@sbcglobal.net
to top
The Marble Shop - Pittsburg, CA
Manufacturer of cultured marble bathroom accessories. Including bathtub and shower walls as well as shower pans and vanity tops. Visit us on the web, or visit our showroom at 180 Bliss Avenue or call Barbara at (925) 439-6910.
to top
Tred Shed Tire Pro's - Pittsburg, CA
More than a tire and wheels store. Shop top tire brands and wheels or if you need quality auto repairs you can count on. Visit us on the web, or better still stop in and let us serve you. 50 Bliss Avenue (925) 432-3422 Craig S.
to top
Vineyard Practice Tee - Antioch, CA
Driving range features automated ball "teeing" system to your desired height. Lighted range for evening practice. Buy and sell golf clubs. Free fittings. Complete club repairs. Teaching professional Marc Vail is available for group and private lessons. 2901 E. 18th St. (925) 513-5660
to top
Vitality Yoga - Brentwood, CA
Vitality Yoga is a yoga practice located inside Brentwood Yoga Studio that utilizes the principles of Iyengar yoga. This form of Hatha yoga focuses on precision alignment utilizing pranayama (breath work) and yoga props so that asanas (postures) may be modified for a variety of student body types.8650 Brentwood Blvd., Ste H (925) 998-0462 A. Stuart
to top
Weathervane Western Wear - Brentwood, CA
One stop shopping for western wear, accessories and art. Visit them on the web (for a coupon), or stop in the store at 225 Oak Street or call Peter at (925) 634-5229225 Oak Street (925) 634-5229
to top
Find a Pet Homeless Animals Lifeline Organization